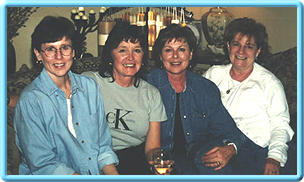 Jenny (left) with cousin Sarah, sister Mary Linda, and cousin Anne
Jenny's favorites:
Composers: Brahms, Mozart
Movies: The Deer Hunter, The Sound of Music, Sophie's Choice, Terminator, Vertigo, Spellbound, American Beauty
Books: Watership Down, Ethan Frome, Sophie's Choice, Anna Karenina
TV shows: The Office, Scrubs, My Name is Earl
Things to do: Playing with the cats, playing piano, crosswords and other puzzles, biking, community theater
A little about me:
First and most important, I'm a mother and wife, and sounding board for my family. I enjoy music (I'm a piano teacher and an organist), especially jazz and classical. I love gardening, cats, Georgia Tech basketball and the Atlanta Braves. To stay in shape, I bike. I'm a 5-time Peachtree Road Race finisher, and in 1992 I completed the New York Marathon.

Favorite quote:
Life is like the baseball season, where even the best team loses at least a third of its games and even the worst team has its days of brilliance. The goal is not to win every game but to win more than you lose. If you do that, you may find that you've won it all.
-Robert Fulghum, in How Good Do You Have To Be?
My favorite links:
Baseball/Braves links:
Atlanta Braves home page...I LOVE the Atlanta Braves...
Major League Baseball's home page...and anything related to baseball.
Fastball's team coverage, another Braves site.
Atlanta Braves Game-By-Game, get the stats for the whole season.
CBS Sportsline's, more scores and stats.
CBS Sportsline's stats, including pitcher stats.
CyberChop, the Atlanta Braves' online newsletter.
Baseball stats, EVERY kind.
Gardening/home links:
marthastewart.com. I'm a Martha Stewart wannabe.
Garden Escape magazine
Birding links:
GORP, Great Outdoor Recreation Pages. Links to birding pages.
Useful sites:
The Yellow Pages. Find anyone in North America!
Mapquest. Get maps of anyplace in the world.
The IRS's forms pages. View and download any federal tax form or publication.
Online toll-free phone directories. Find any address's zip code, and even see a street map.
Music Education Online. Links to music education resources.
Northwestern Mutual's longevity game. Find out how long you will live.